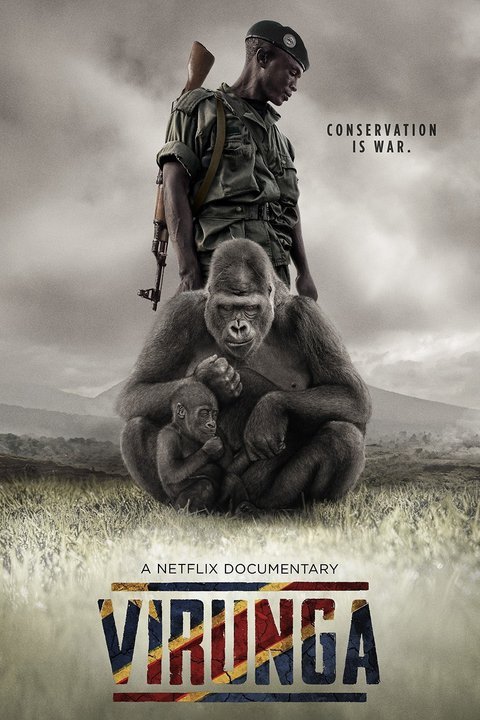 Virunga
is a extraordinary documentary film which focuses on the conservation work of rangers within the
Virunga National Park
in the Democratic Republic of the Congo, and the activity of a British company,
Soco International
, which began exploring for oil within the
UNESCO World Heritage site
in April 2014. SOCO is an international oil and gas exploration and production company, headquartered in London. It is listed on the London Stock Exchange.
The film premiered at the Tribeca Film Festival on April 17, 2014. Since airing on
Netflix
it was nominated for an Academy Award for Best Documentary Feature.
The allegations brought against Soco International by the documentary, and supported by local NGOs and civil society organizations working in and around Virunga National park, put increased pressure on the company to put an end to its exploration for oil within the protected World Heritage Site.
On June 11, 2014, Soco International and the WWF announced a joint statement in which the oil company committed "not to undertake or commission any exploratory or other drilling within Virunga National Park unless UNESCO and the DRC government agree that such activities are not incompatible with its World Heritage status". This was widely cited as a victory for WWF, which had long been campaigning for Soco to leave the region, and credit was also given to the filmmakers. However, strong concerns about the credibility of this agreement were raised by the filmmakers, alongside other NGOs such as
Global Witness
and
Human Rights Watch
, and local civil society organisations.
World Wildlife Fund executives now acknowledge that the battle over Virunga is hardly over. SOCO has yet to relinquish its operating permits or commit to an unconditional withdrawal…"They're leaving the door open," said Zach Abraham, director of the World Wildlife Fund's global campaigns. (Source: adapted from Wikipedia)
On March 13, 2015, BBC reported that
the Democratic Republic of Congo says it wants to redraw the boundaries of Virunga National Park, to allow for oil exploration
.
On June 10, 2015 BBC reported that '
Soco paid Congo major' accused of Virunga oil intimidation
.
Since the launch of the film on April 17, 2014,
SOCO's share price has plunged by 63.33%
. This slump can be attributed only partially to the drop in oil prices as shares from BP and Shell dropped by 14.3% and 25.9% respectively over the same period.
Call for action:
You can view the documentary film on
Netflix
.
You can interact with the producers via
http://virungamovie.com/
and
take action
.
Save Virunga:
http://savevirunga.com/
Watch trailer:
Heads up to Orlando von Einsiede, the film director, the French investigative journalist, Mélanie Gouby and to the team behind this great production!